Touring WRCOC
For some people, visiting somewhere new can be hard – you don't know anyone or where anything is located. So, this video is for you. That way, when you arrive, you'll see a few familiar faces and have a general layout of things. We'd like to get know you – hope you'll visit us soon!
"Beloved, let us love one another, for love is from God, and whoever loves has been born of God and knows God." (1 John 4:7)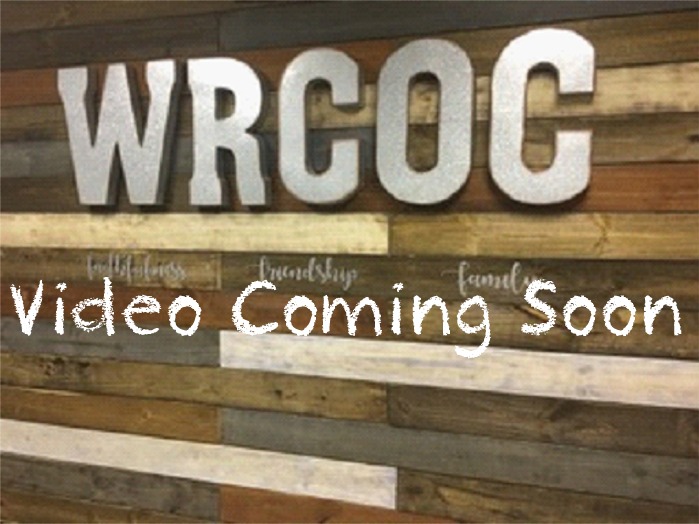 Why We Love it Here
"They speak directly from the Bible."
"The sound doctrine that is preached here."
"The kids' classes."
"I know I'm not on this journey alone."
"It's a very safe place for me."
"There is unity and family."
"There is a lot of love here."
"The spiritual enrichment."
"This is Christ's church."
"It's a comfortable place to grow closer to God."
"It is my family."
"There is a lot of opportunity to do good."
A Typical Lord's Day
John records Nathanael's uncertainty about Jesus, but Philip said to him, "Come and see" (John 1:45–46). That is all we ask of our visitors – come and see for yourself. You'll find a family of believers who love the Lord and desire to worship Him in spirit and truth. We are called to be servants and to bring people to Jesus. If you need help with that, just let us know. Give us a chance to show the love of Christ in our service to you.
See you soon!
We have Bible Classes for all ages, including a nursery class, a teen class, two adult classes, and everything in between. You will find an emphasis on learning the Bible and applying the Bible. Kids will learn age-appropriate material, as will our teens and our adults. Our Bible class teachers are well-prepared, well-equipped, and full of love.
When you first visit our Sunday worship service, you can expect to find a simple worship service that adheres to the New Testament's teachings. When we assemble on every Lord's Day (Acts 20:7, Revelation 1:10), we worship God with our…
Prayers: Different men lead our public prayers (1 Timothy 2:1-8). Each individual is encouraged to pray along, collectively praising and petitioning God silently.
Praise: The whole congregation joins together in praising God with our hearts and lips (Ephesians 5:19, Colossians 3:16). Everyone is encouraged to participate. The most important aspect is NOT the sound of your voice, but the heartfelt expression of worship towards God. The words are available on a screen in front of the auditorium so you can join in to give praise to God and encourage those around you.
Scripture Reading: Men will publicly read Scripture as part of our worship to God (Nehemiah 8:1-12). Applicable Bible passages are read as part of our communion, offering, and at other times to help prepare our minds, giving reverence to God. We often begin our worship with a public reading of Scripture that centers on some aspect we wish to grow according to God's will.
Communion: Like the church of the New Testament, every Sunday we remember Christ's sacrificial death by eating unleavened bread and drinking the fruit of the vine (Acts 20:7). We sit quietly for a few minutes, reflecting on the sacrifice of God's Son, memorializing the body and blood of Jesus Christ (1Corinthians 11.20-34).
Preaching: We will enjoy a biblical lesson that lasts about 30 minutes (Acts 2:42; Romans 10:14). Each week the speaker makes practical application from God's Word to educate, encourage, and occasionally admonish those who have ears to hear. On most Sundays, Daniel Stearsman, our pulpit minister, presents these lessons, though sometimes another speaker will guide our thoughts. Each lesson is meant to apply biblical commands and principles to our lives.
Giving: Christians are instructed to give as they have been prospered on the first day of the week (1 Corinthians 16:2). We do not ask or expect our visitors to give anything in the offering.
YouthSpeak
WRCOC provides a place for our youth to belong, have fun, be challenged, and learn biblical principles from God's word. In 2021, our youth will be focusing on what it means to be a servant of God, assisting the elderly, serving others in need, and working on community projects. We will be evangelistic, inviting our friends to attend our events and passing out literature in our local community. Together, we will grow to be the spiritual people God desires us to be in our homes, congregations, and community. Join us on our spiritual journey.
Leadership
The New Testament identifies God's design for the leadership in His one church. Christ is the only Head of the one New Testament church (Matthew 16:13-19; Ephesians 1:20-23; Ephesians 5:23; and Colossians 1:18).
The WRCOC leadership is based on the biblical model of a plurality of elders (Titus 1:5 and 1 Timothy 3:1-7). The New Testament identifies elders as men who shepherd and oversee the local congregation (Acts 20:17-28 and 1 Peter 5:1-3). The elders work with deacons who fulfill different works in the local congregation (1 Timothy 3:8-13 and Philippians 1:1 - see also Acts 6:1-7). Also found in the New Testament are evangelists (Ephesians 4:11) like Timothy and Titus, who proclaim God's word (Romans 10:14) and teach the truth (1 Timothy 4:6 and 2 Timothy 4:2).